Planning with Mitchell Funeral Home means support from day one
Living in Muskoka is all about feeling connected – to nature, to our community and the people who make this beautiful place feel like home. For Larry Mitchell, his wife Colleen and son Bill, of Mitchell Funeral Home, forging these connections is a fundamental principle behind their approach to business. In the 17 years that they've been serving the Muskoka community, the Mitchell family has established a reputation for providing service that reflects the best of what a family business has to offer—in particular consistency, respect and quality care.
"When you call our funeral home – it doesn't matter whether it's two o'clock in the afternoon, or two o'clock in the morning – you're going to get one of us in person," says Colleen. "Other approaches might make great sense from a business perspective," says Larry. "But we don't see our profession as a typical business. We're there with you from the very beginning."
The beginning stages may entail drafting your arrangements with Larry. He is accustomed to supporting people at every stage of life who want to make their arrangements ahead of time. "Some people come to us after a person close to them has passed. It gets them thinking about how they want to be celebrated or remembered," explains Larry. "Whether you want a full church service or a less formal celebration of life, we are here to ensure these personal preferences are clearly laid out." Other people are motivated to come to Larry to ease the burden and financial pressure on the loved ones they're leaving behind. "Whatever your motivation, our doors are always open to answer questions and walk families through the process and paperwork."
If you're considering transferring to Mitchell Funeral Home, the process is quite simple. "There are no extra fees and the client doesn't have to make any awkward phone calls or explain their decisions to their previous provider," Larry explains. "We handle all of that and are here to ensure your wishes are clearly laid out."
At a time when many funeral homes are moving away from this personalized approach, the Mitchell family takes pride in the quality of care they offer. "We remain the region's only family-owned and operated funeral home," says Larry. "And we are proud to have a history here based on trust, support and helping members of our community find peace of mind."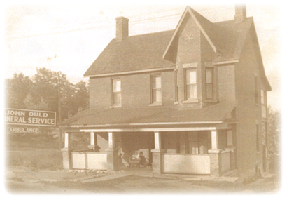 In the late 1930's my Grandfather, Carl T. Addison moved his wife Myrtle, daughter Betty (my mother) and son to Huntsville to begin working at the Ould's Funeral Home. Later my grandparents had another daughter, Barbara. Shortly after my grandfather arrived Mr. John Ould died and my grandfather assisted Mrs. Ould in operating the business. After a few years of operating under the Ould Funeral Home name Carl Addison took over the ownership of the business and the Addison Funeral Home began.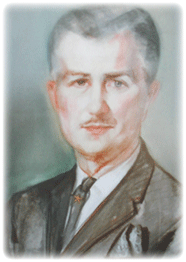 In 1969 my grandfather, Carl T. Addison sold the funeral home to his son with the plan to enjoy a well deserved retirement. Unfortunately, due to poor health, my grandfather died in 1972. Upon taking over ownership of the funeral home my uncle proceeded to make it more modern in design, more accessible, and installed a permanent chapel. Throughout the coming years many renovations and advances in service were made in the funeral home. My uncle continued operating the funeral home in my grandfather's footsteps. As a young child my grandfather would take me out of town on trips for the funeral home. When my uncle took over the family business and started renovations I began working at the funeral home, helping with the renovations and later with funeral assistance.
Originally located on West Street behind the old Eaton's store, my grandfather, in the late 1940's moved the business to it's current location.
I left Huntsville in 1977 to attend Humber College in Toronto and obtained my Funeral Directors License in 1979. I remained in Toronto working with the Trull Funeral Homes until 1984, when my uncle invited me to return to the family business. I worked with my uncle until the time he sold the business in 1990 at which time I became the managing funeral director.
The corporation, from their time of purchase, was aware of my interest in owning the business started by my Grandfather. On May 16, 2001 my wife Colleen and I were fortunate enough to be able to purchase the funeral home. It was a difficult decision to change the name of the funeral home, but to set the new direction of the business it was necessary. Now the business operates under my family name, however it will continue to be operated in the spirit of my grandfather, Carl T. Addison. The chapel has been dedicated to his memory with his portrait proudly hung in the foyer.